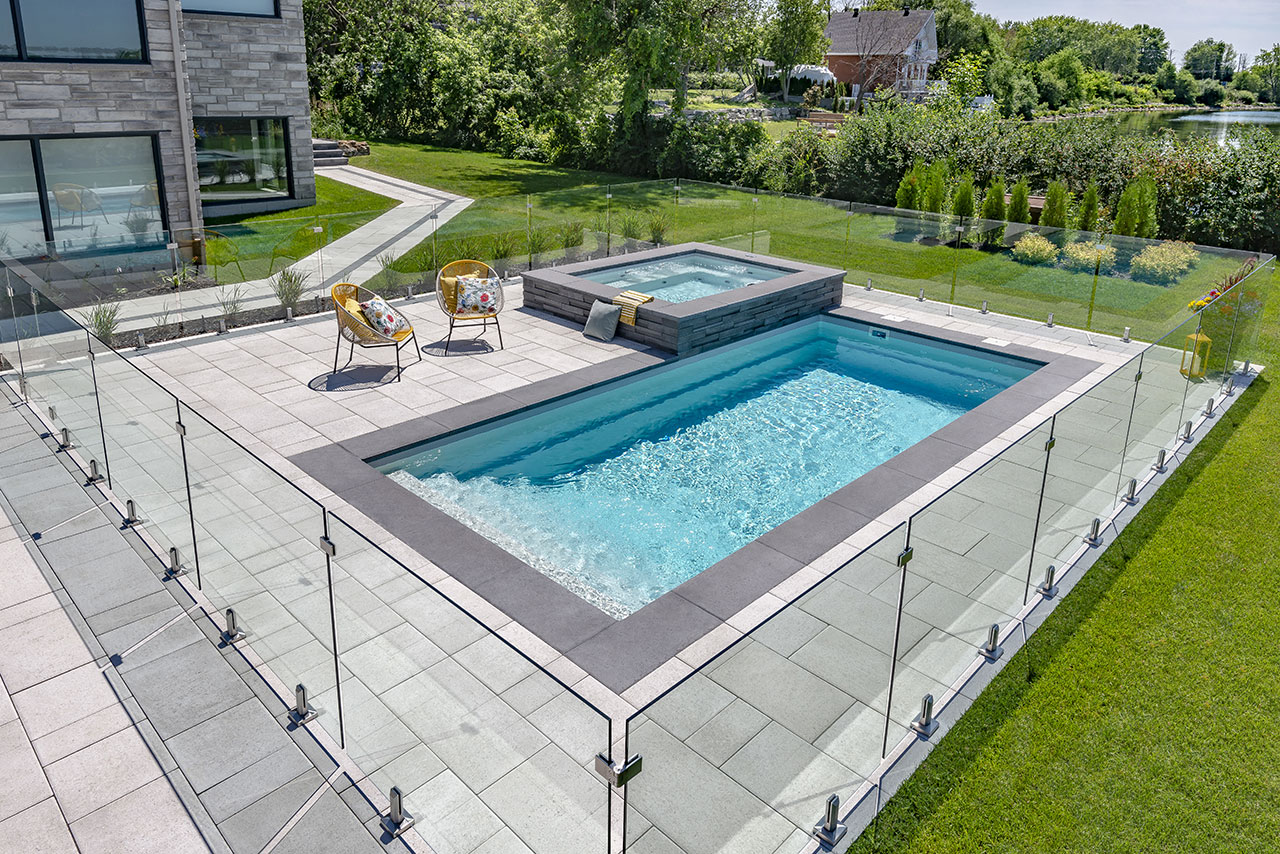 Rinox Paving Stones and Slabs
The products in the Rinox range are made in Quebec and accredited under the Bien Fait Ici program, which encourages the purchase of quality construction materials and items made in Canada, intended for the residential market.
Asphalt or uni-stone: which one to choose?
For large commercial parking lots or roads in Quebec, asphalt has several advantages. This is mainly due to the very large surface volume, in a quality / price ratio. Also, by the fact that over a great distance, anything that rolls prefers smooth surfaces.
However, for smaller surfaces, especially if you want to interweave landscaping, coverings or roofs with a certain cachet and a certain touch of prestige, the uni-stone is simply essential. When it comes to style, paving stones remain the choice par excellence from every point of view.
Paver or slab: what's the difference?
Although both are made from concrete, there is a difference to be made between paver and slab. The paver is mainly used for parking lots or for the underside of a spa and is usually 70 to 80 mm thick. It is designed to withstand heavier loads.
Conversely, the slab will rather be used to make a terrace or sidewalk for domestic use, that is to say for a residence. Its thickness is between 50 and 60 mm, depending on the model.
Here are the 18 paving stones selected and ready to install by the Patio Design team.
Capri XL
Contemporary look
Rectangular shape
Large format
Textured finish
Available in 3 shades of beige and gray
Tena Mega
Linear and elegant look
Smooth texture
Square shape
Available in 2 shades of gray and black
Tena
Modern look
Rectangular shape
Smooth texture
Linear or rafter installation
Available in 2 shades of gray and black
Aspen
Clean and sophisticated look
Small and large rectangular shape, square shape
Smooth texture
Available in 4 shades of beige and gray
Avila Sabrina
Contemporary look
Curved surface
Small and large rectangular shape, square shape
Available in 4 shades of gray, white, brown and black
Capri
Contemporary paving stone
Rectangular shape of small and large size, square shape of large size
Textured finish
Available in 3 shades of gray and beige
Proma
Modern and urban look
Small and large rectangular shape, square shape
Smooth texture
Modular or linear installation
Available in 8 shades of gray, beige and black
Proma XL
Popular choice
Modern and urban
Rectangular shape small and large size, square shape large size
Smooth texture
Available in 8 shades of gray, beige and black
Proma Quadra
Colossal square shape
Smooth texture
Modern look
Available in 8 shades of gray, beige and black
Proma 3XL
Elegant and imposing look
Spectacular effect
Rectangular shape of extra large size
Smooth texture
Available in 8 shades of gray, beige and black
Vista
Ecology uni-stone
Rectangular shape
Textured finish
Permeable
Available in 5 shades of gray, beige, brown and black
Venza
Modern appearance
Rectangular shape
Smooth texture
Permeable
Available in 5 shades of gray, beige, brown and black
Zuko Grande
Interlocking modern and traditional look
Small and large rectangular shape, square shape
Slightly textured
Available in 5 shades of gray, beige and black
Ecco
Green choice
Rectangular shape
Slightly textured
Permeable
Available in 1 shade of gray
Geolo
Ecological choice
Various rounded shapes
Smooth texture
Permeable
Available in 2 shades of gray and beige
Legno
Trendy and zen look
Rectangular shape
Smooth texture
Available in 6 shades of gray, brown and black
Legno Grande
Modern look
Smooth texture
Large rectangular shape
As a uni-stone or border
Available in 6 shades of gray, brown and black
Ribera
Elegant look
Undefined contours
Slightly textured
Small and large rectangular shape and square shape
Available in 4 shades of gray, beige, brown and black